---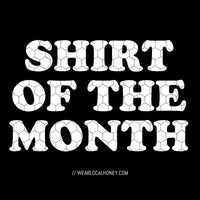 WHAT COULD BE BETTER? Local Honey delivered every month!
Choose your style or let me surprise you. PLUS: 10% to the organization of your choosing or trust me to do the right thing.

Makes a kick-a$$ gift!
Save 10% off regular price for 3 -9 month subscription or 20% off regular price for 12 month subscription.
If this is a gift, comment recipient shirt size at checkout.